6 Ways to score big at your next special event
The value of interactive customer experiences is no more evident than at special events. This can take shape as a trade show appearance, event sponsorship or participation in a local street fair.
Businesses report their leading goals in face-toface marketing are to increase or create brand awareness (81%) and to boost sales (79%). Among other objectives, marketers seek to enhance product knowledge (62%), influence deeper customer involvement (57%), launch new products (55%) and gather sales leads (50%).
Of course, if you arrive at a trade show or similar event with these goals in mind, it's best to come prepared. Here are six tips on how to be a "big league" event marketer by maximizing the return on your investment.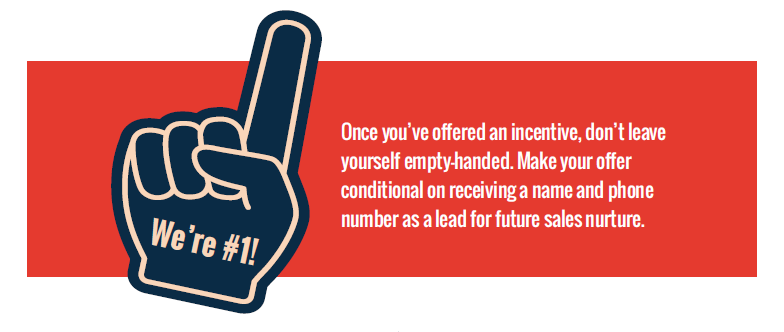 1. Don't simply show up – show off. Use the opportunity to do what may be impractical to do in your store, on a sales call or online. Show how easy it is to use your product or achieve great results with it. There may be no better way to launch a new item or boost sales among prospects you might not normally encounter. Four out of five event goers name a demonstration or, better yet, a personal trial as a reason to purchase a product.
2. Give 'em a discount and get the sale. People are attracted to trade shows and special events by the prospect of a discount, incentive or special offer. Indeed, nearly half of event attendees say that's the reason they came in the first place . . . and made a purchase afterward. Once you've offered an incentive, don't leave yourself empty-handed. Make your offer conditional on receiving a name and phone number as a lead for future sales nurture.
3. Score your hits and misses. Track whatever you can to determine what's working, what's not . . . and what might be improved upon next time around. The three leading criteria used in evaluating event marketing are visits to your booth or display, Facebook "likes" or other social media feedback, and the number of sales leads you've collected. Your competitors are probably keeping score; four in five marketers measure their results.
4. Don't paper over a preference. There's a place for printed sales materials, and it's in the hands of your
prospects – many of whom prefer paper over digital communications. That said, a two-tier distribution strategy can help minimize costs. Hand out a simple brochure to all visitors and a more elaborate one to those expressing a strong interest. Or, gain a new sales contact by collecting a name and address in exchange for a promise to deliver a deluxe brochure later.
5. Give it up for promotional products. Smart event marketers offer more than one advertising specialty. You'll
gain a greater chance at satisfying the needs or capturing the imagination of your contacts. And you'll multiply
your chances of offering a premium, unlike a competitor. What's more, you'll be less likely to run out of items. All that said, be sure your choices are well branded; you're seeking to gain goodwill and greater awareness.
6. Hats off to logo apparel. Branded clothing is a popular giveaway, and a sure conversation-starter. What's more,
it's a gift that keeps on giving – if giving your brand name wider circulation is important to you. Of course, there's one group you should never overlook when passing out wearables, and that's your staff. A logoed shirt, cap or other clothing item will not only promote your business, it will also identify your team members as the ones who visitors should ask for more information.

Take your next event from good to great. We can help you drive better results.